House Restumping Melbourne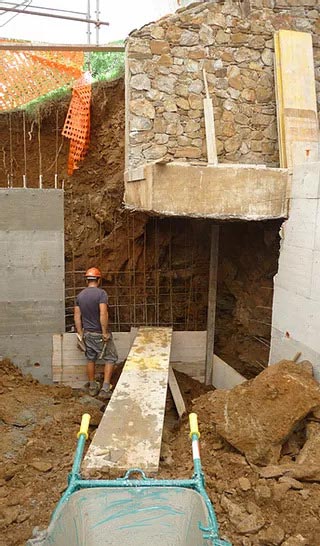 Best Restumping Specialists Melbourne
Restumping any Melbourne house is a big undertaking and if it's not handled correctly, it could be very dangerous for you and your house.
Restumping, also known as reblocking, involves resetting (or replacing) the stumps on a house that uses a stump subfloor. This is normally necessary when the house stumps have settled as a result of soil movement, or when wooden stumps have rotted as a result of moisture in the soil.
Melbourne Trusted House Restumping Company...
It is also a wise move to restump an older home that will be undergoing major renovations, due to the added strain on the structure of the house.
Does my Melbourne home need restumping?
Signs that your house may need restumping include:
Continually cracking interior walls
Uneven, bowed or 'soft' floors
Exterior cracking on brickwork
Doors and windows not functioning correctly
Every house in Melbourne is different, and are built on ground with different soil conditions.
For that reason, every house will display deterioration in different ways. If failed, stumping is left untreated though, the end result is the same; partial or total collapse of the structure.
How do we restump houses in Melbourne?
The first step is to assess which stumps need to be replaced or reset. This is normally done using a level to assess how even your floors are, and by checking the stumps themselves for movement and deterioration. The house is then gradually and slightly jacked up where the stump that needs to be replaced, and existing stumps are either packed out to compensate for settling, or are removed and replaced altogether.
Depending on how much movement has occurred, it's possible that adjustments due to restumping the house will cause doorframes to warp, cracks in plasterwork, tile damage and similar issues.
Wood Stumps, Steel Stumps and Concrete Stumps in Melbourne
When houses are restumped these days, it is usually with galvanised steel or concrete stumps. These are not susceptible to many of the weaknesses that wood has – they don't rot, are immune to termites and won't warp over time.
Steel stumps are also adjustable on-site, which is a great advantage when it comes to installation and can save you a great deal of time and effort.
It's well worth paying to have it done professionally and to the highest standard. Restumping is a difficult job, and having it done properly is crucial to the structural integrity of your home.
Repair Your Melbourne House Stumps...
We advise you to act quickly until it's too late and cost you more. Many restumping companies in Melbourne charge a hefty sum for fixing your home. We offer reliable and professional services at cst-effective prices. Contact our Melbourne team to get it fixed.